Residential Roofing
Solid, attractive roofing is a major concern for homeowners who want to protect their most valuable asset. One of our experienced roofers will come out to your residence.
Commercial Roofing
Commercial roofing is often very different from residential roofing and it takes an experienced and professional team to get the job done right. Contact Us Today!
About Us
At Palmetto Roofing Siding Gutters, all our expert teams are fully licensed and insured. We have vetted each employee for honesty, and a dedication to the work required to do the job.
---
Welcome To Palmetto Roofing Siding Gutters
Roofing, Siding & Seamless Gutter Services in Rock Hill, SC
Palmetto Roofing Siding Gutters is your one and only choice for roof repair and roof installation in Rock Hill. Our team of experienced and licensed roofers also specialize in installing seamless gutters. Whether you are a homeowner or business owner, Palmetto Roofing Siding Gutters can put an end to all of your roofing problems with affordable prices and top-quality workmanship.
Professional Roofing Services
The roof is one of the most important parts of a home and we stress that at Palmetto Roofing Siding Gutters. Our team of roofing professionals will identify any problems with your residential roof and provide a fast and efficient fix. We also install all kinds of new roofs and provide a wide variety to choose from. Homeowners can choose from an array of asphalt roofs or go with an elegant wooden cedar shake. The choices are in great abundance while service is top-notch. We even make sure all the flashing and ventilation are flawless.
Seamless Gutter Installation
Installing seamless gutters can provide a breath of fresh air to the exterior of your home. These gutters have a vast amount of advantages and the pros at Palmetto Roofing Siding Gutters will make sure your seamless gutters are installed just right. And should a storm damage your existing seamless gutters, we can be right over and install new seamless gutters that are actually cut by our team of fully-licensed roofers.
Commercial Roofing Services
All types of businesses continue to benefit from the competitive prices and excellent work provided by Palmetto Roofing Siding Gutters. We install rubber and metal roofs on commercial buildings and also make sure every roof is equipped with proper ventilation. Businesses large and small can also take advantage of our great attention to detail as we are extremely thorough during every part of the process. Commercial office buildings, apartment complexes, retail stores and banks are just a few of the structures that have upgraded their commercial roofing with the help of Palmetto Roofing Siding Gutters.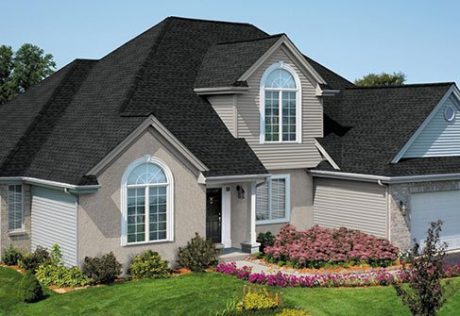 To add value and curb appeal to your home, even as you protect it for years of living, Palmetto Roofing Siding Gutters provides services including:
Roofing – Our crews are knowledgeable and adept at repairing and installing all types of roofs, including asphalt shingles, ceramic tiles, metal, cedar shake, and more.
Siding – We can protect your home with the siding of your choice. We provide installation of vinyl, aluminum, wood, masonry, or composite.
Gutters – Consider a seamless gutter installation that will protect your siding and foundation from water damage.
Free Estimates and Quality Service
There is no need to worry about any hidden costs or high service charges when you choose Palmetto Roofing Siding Gutters. Our estimates are always free as we provide an honest assessment of what it will cost to fix your roof. If you choose to utilize our services, we will provide you with quality materials and quality service. Each customer is extremely important as integrity and precision goes into every roof installation, repair and replacement at Palmetto Roofing Siding Gutters.