Siding
The right siding can make all the difference when it comes to a home's appearance. Siding also serves a functional purpose as it helps with energy efficiency and protects the home from harsh weather. Palmetto Roofing Siding Gutters provides expert siding repair and siding installation in Rock Hill and the surrounding areas.
Residential and Commercial Installation Services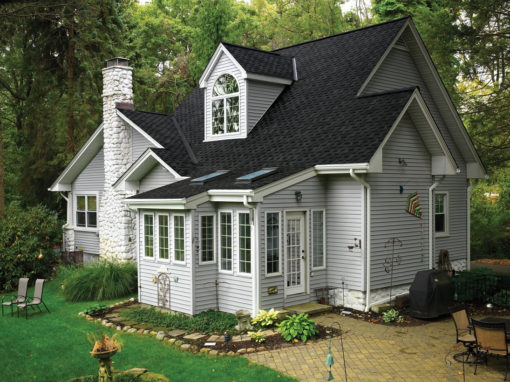 When installing any kind of siding, it is important to select a style. But it is equally important to select a grade of siding. Grade is used to define the thickness level of the siding. For example, new construction typically uses a 040 Grade while 044 is considered to be more of a premium Grade. Palmetto Roofing Siding Gutters will help you in the selection process as there are several varieties to consider.
Vinyl Siding – This is the most popular choice among homeowners, which offers a wide assortment of colors and styles. The upkeep of vinyl siding is very minimal and can be done with a quick spray of the hose.
Cement Board Siding – This option provides an upgrade in durability and has a real wood look to it. It can withstand tough weather and often comes with extended paint warranties.
Other siding varieties – Siding options are also available in wood, fiber cement, brick, stucco, stone veneer and many more.
---
Palmetto Roofing Siding Gutters also provides house wraps, which create a moisture barrier for your home. This differs from insulation, but will keep outside air and precipitation out of the home.
Repair and Replacement Services
The elements of nature can take their toll on a home, although help is only a phone call away with Palmetto Roofing Siding Gutters. Harsh weather can actually tear vinyl siding directly off the home. There may also be other problems, such as flashing that is damaged or improperly installed. High winds and hail can wreak havoc on a home, calling for immediate repair. Palmetto Roofing Siding Gutters offers siding repair service that includes the following:
Expert Solutions – Matching vinyl siding is not always as easy as picking out the same brand that was installed on the home. Over time, siding can fade a bit in color. That means that new siding will look as though it doesn't match. That is where it helps to have the assistance of a professional to get the right match for your home.
Insurance Assistance – Siding repair may be covered by a homeowner's insurance policy and Palmetto Roofing Siding Gutters has a proven track record when it comes to dealing with insurance companies. We can help you through the process and do our part in providing quality siding repair in Rock Hill and the neighboring communities.
Palmetto Roofing Siding Gutters Mobile Technicians Provide Free Estimates, Call Today!