There are a lot of different types of roofs, some of which are more conducive to certain regions and environments. Here is a closer look at the pros and cons of some of the more popular roof types.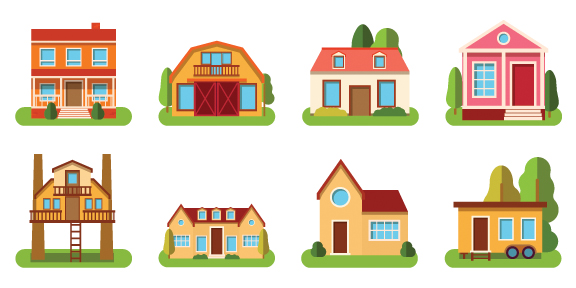 Gable roof
Pros: Since these roofs have quite a few peaks water runs off rather easily, and the design also allows for an ample amount of ventilation.
Cons: Gable roofs are very susceptible to damage from severe wind and weather which could result in shingles being torn off or an entire collapse.
Flat Roof
Pros: This kind of roof is relatively inexpensive and serves as a perfect base for the installation of solar panels. It also provides extra space for something like a rooftop deck.
Cons: Because of the design and lack of water runoff, flat roofs can experience their share of leaks. There is often more maintenance required on flat roofs.
Arched Roof
Pros: This design is considered very chic and has a lot of aesthetic appeal. It also has a lot of structural integrity and is not a common sight in all neighborhoods.
Cons: It is typically only used on parts of the home and because of it is so unique, an arched roof can be costly to install.
Mansard Roof
Pros: These types of roofs offer more living space and are excellent for homeowners considering an addition. The attic space in a mansard can actually be converted to a bedroom or office.
Cons: The unique design of a mansard roof has made it more expensive than other common roof types. These roofs do not hold up as well in areas where there is a lot of snowfall.
Pyramid Roof
Pros: These types of roofs are very energy efficient and stand up well to high winds. Its design can be used on parts of a home to differentiate its overall appeal.
Cons: Because of the unique design of pyramid roofs, the overall cost is typically high; which may be one of its only drawbacks.
Hip Roof
Pros: The way the slopes are designed on a hip roof makes it extremely durable. Outside, snow and rain slide off very easily and inside, there is plenty of room for high vaulted ceilings.
Cons: This is not always a cost-efficient option and the excess amount of seams make hip roofs susceptible to leaks.
Still unsure which roofing option is best for you? It is best to seek out expert advice from a local and reliable roofer like Palmetto Outdoor Solutions. They provide trustworthy Charlotte, NC roof repair and installation on all roof types for neighboring homes and businesses. For the best roof replacement Rock Hill, SC has to offer, contact the team at Palmetto Outdoor Solutions today.