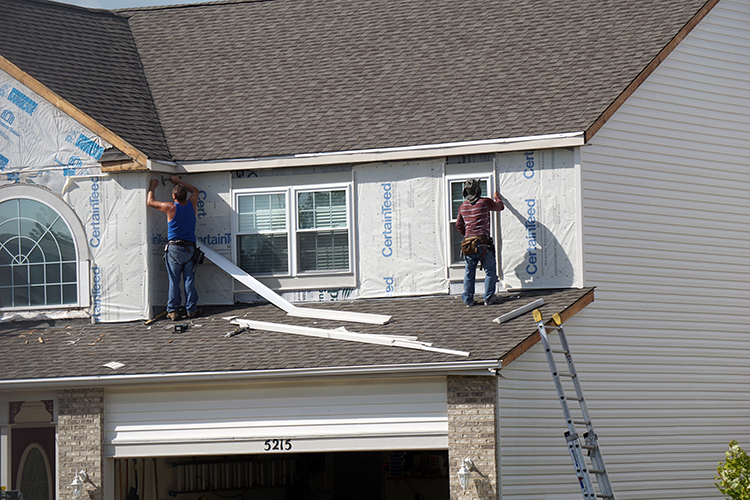 Each year, the extremes of hot and cold temperatures throughout the year end up consuming a large portion of a home's overall energy usage. Without changing heating and cooling habits, it is possible for homeowners to reduce this seasonal spike in energy costs.
Thanks to ongoing innovations in science and construction, homeowners have increasing options for interior and exterior home improvement solutions to help make their home or business more energy efficient. Today, we will discuss the home's main external defense against energy waste -siding.
R-Value of Siding
The R-Value of an appliance or a building material refers to its level of energy efficiency. The higher the R-Value, the more energy efficiency the product is. Most types of siding have a score of less than 1. As a matter of fact, many siding types have very low R-Values of 0.11. On the other hand, some siding types have high R-Value scores from 3 to 5.
All the numbers and research can be quite daunting for some but, thankfully there are experts here to help. The team at Palmetto Roofing Siding Gutters is ready to help you with siding in Rock Hill SC as well as Charlotte, NC. Go ahead, give us a call when you are ready to discuss siding for your home or business.
Energy Efficient Insulated Siding
When compared to common siding types, those made from steel, aluminum or insulated vinyl can prove to be up to five times more energy efficient. These sidings prove their worth with an average R-Value score of 2.5 to 5+, and can help your house pass the level to achieve the Energy Star designation. In addition, the more durable, energy saving sidings also need much less maintenance. For example, insulated vinyl siding would be expected to last at least 30 years.
When you replace your old, worn out or damaged siding with an energy efficient and insulated siding, you might want to consider replacing or adding more exterior insulation first. The quality and efficiency of insulation products have likely improved drastically since your was built. This new exterior insulation and insulated siding in addition to your home's interior insulation and spray foam mean you should start seeing big savings in electricity.
Other Benefits of Using Sidings That Are Energy-Efficient
Remember, a few bucks a month can add up quickly. When you make the decision to get energy efficient siding to help lower utility costs, those savings can cover the costs within a few short years.
The following are some other benefits of using siding made up of steel, aluminum or insulated vinyl:
– Aids your home in achieving the Energy Star designation: A home that has the Energy Star designation stands to gain several incentives and tax credits from some electric companies.
– Increases the lifespan of the HVAC system: By sealing your house's envelope, you will reduce stress faced by your HVAC system, especially during the extreme summer and winter temperatures.
– Reduces your house's vulnerability to mold: With your home or business sealed up and protected, it is unlikely humidity will be able to seep in. This means moisture cannot build and mold cannot grow.
– Increase your house's value: With an increase in energy efficiency, the resale value of your house goes up too. Plus, it looks good.
Do you still have questions regarding energy efficient siding, or want to know if sidings made of steel, aluminum or insulated vinyl is the thing for you? Don't hesitate to contact us!
Palmetto Roofing Siding Gutters specializes in siding, seamless gutters, residential and commercial roofing from Charlotte, NC to Columbia, SC.